Awards
Reversal's recent awards.
Reversal Victorious at Orinda Film Festival!


At the Orinda Film Festival — a prestigious event held near San Francisco in September, 2003– audiences named Reversal Favorite Feature out of more than 50 films.
Reversal Wins at Durango!


It's true! Once again, the "Little Wrestling Movie That Could" has taken the top award at a Film Festival. Reversal won the "Best Feature" award at The Durango Film Festival, held in Durango, Colorado, Thursday, March 6 through Saturday, March 8, 2003.
Reversal WINS Two More Film Festivals!
Writer/Producer Jimi and Alma Petulla with the IndieVision award. In one weekend, Reversal took the honors at two different film festivals in two different cities. This was the film that "Hollywood" said wouldn't make it because it didn't have any known stars, or car crashes.

On the east coast, Reversal captured the award for Outstanding Achievement in Filmmaking at the IndieVision Film Festival, held at Robert DiNiro's place in Tribeca, New York. Not surprisingly, it was the only sold-out movie at the event!

In the midwest, Reversal took first prize at the Family Film Festival sponsored by the Dove Foundation in Yellowstone Park, MT.
Reversal was also recently selected for the Austin Film Festival, where the movie took second place — losing only to a highly-touted picture by Johnny Depp.
Malibu Film Festival Winner!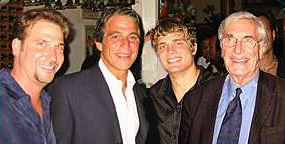 Writer/Producer Jimi Petulla, Tony Danza, Danny Mousetis (lead in film) and Martin Landau.

Going up against heavy hitters like Tony Danza and David Katz, Reversal captured the People's Choice Award for Best Feature Film at the Malibu Film Festival. Who says a movie about wrestling doesn't appeal to people . . .
The festival took place in world-famous Malibu, California. More than 75 filmmakers entered. Other films starred celebrities such as Jerry Stiller, Janeane Garofalo, Karen Black, Andy Dick and Ron Howard. Reversal offered heartfelt performances and a touching story!